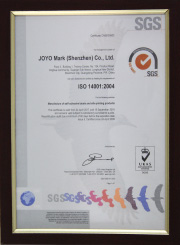 In recent years, compliance of environmental issue in China is the
huge assignment to the company. JOYO MARK (SHENZHEN) CO LTD acquired ISO14001 in year 2008 and well environmental care as well as compliance of Chinese law.
Environmental Manage Substances, Conflict Minerals compliance, we also work with these issue recently.
Please feel free to contact us for the details. JOYO MARK (HONG KONG) CO LTD and JOYO MARK (SHENZHEN) CO LTD progressively and hard to work to this issue to eliminate the environmental load.