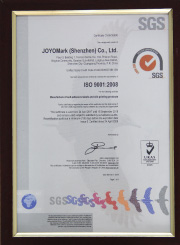 JOYO MARK (SHENZHEN) CO LTD acquired ISO9001 in year 2008 and work
with customer for customer's ideal quality requirement.
A the printing, especially for industrial solid color, using color meter to check the print quality. We also follow with color limit as per customer's request to ensure the quality of products in factory.
At the process, we use 2D measurement machine to ensure the dimensional control.
At the shipment, inspection to all shipping qty. We used to inspect by visual check, however some items are used Auto inspection machine.
We gradually install the auto inspection machine and change the human visual check to machinery check.
For every production lot sample, we keep the record upon on customer's request.
Should you have any enquiry, please feel free to contact us.