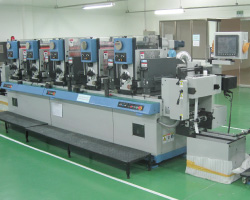 JOYO MARK (SHENZHEN) CO LTD produce general label and industrial label by Rotary Print Machine.
Print method of this convex plate, let the print ink stick at convex side to crimp material and it result to be transferred.
Rotary machine printing products are well applied to industrial label now due to high density print technology that Silk Screen print was appropriated in the past. Rotary machine products have cost advantage and shorten lead time completion compare to Silk Screen and Offset printing, it is generally accepted to the recent print item. JOYO MARK (SHENZHEN) CO LTD have equipment that it process varnish print and glue killing, thus it can be wide range of pattern of labels are produced. We have wide variety of material with print combination to UL and CUL approved industrial label. Please feel free to contact us for details.