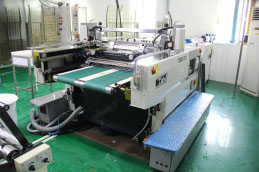 Silk screen print use print plate made by nylon mesh which is made by synthetic fiber, ink is forced onto printing material. Silk Screen print is suitable for multi-film, paper and other wide variety of printing materials.
Good Weather resistance ink is used this silk screen print and it suitable for outside of stickers as well.
Besides, Electric conductivity ink and masking ink are acceptable for this Silk Screen, this is fit to electric parts.
JOYO MARK (SHENZHEN) CO LTD deals name plate, sticker and Dotite with hairline print.