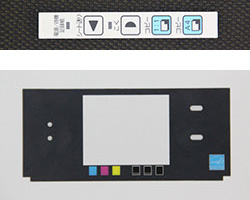 ・Name Plate
We are specilaized in the Silk Screen print with using PC, PET material thickness more than 0.5mm. Silk Screen print is used for Operation plate and function plate, it is also applied to general consumer electrics (Washing machine, rice cooker, humidifier, printer)products with high quality. By using special printing method, we can provide the own original products that other may not produce it, such let the print ink transparency, accumulate the ink thicker, this may show the difference design etc.
・Aluminum Plate
Aluminum is relatively lighter than stainless, it is suitable for weight saving. Bending process, diamond cut process are available.
In general, "Anodized treatment" is applied at surface and this enhance the corrosion resistance. Machine plate, Trade Mark, Company name
designed Logo badges are recommended.